About Casey Pickerill, MD

---
A Practice Based On Values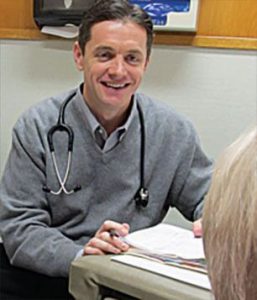 I believe everyone has a personal story…and I enjoy listening to those stories and making healthcare decisions based on what my patients tell me. I get immense satisfaction from determining a diagnosis based on the history my patients provide. I like to avoid extra steps and unnecessary processes in the practice of medicine. I strongly believe patients should not have to fight a system in order to receive the medical care they deserve. My concierge medicine practice has allowed me to live these values every day.
How I got started
My dad was my mentor, a well-respected family physician. I was extremely fortunate to join him in his practice after completing my residency. While I learned the "science" of medicine in medical school, I learned the "art" of medicine by practicing with him, side-by-side for five years.
My passion
I have a passion for providing preventative care. My focus is on risk reduction and helping patients find a way to attain a high quality of living with less disruptive medical events. My concierge practice in Lafayette, IN, really is an extension of my faith – and my ministry is being able to help people live well by staying healthy!
My life outside the office
I enjoy spending time with my wife, Kathe and our three sons, Nolan, Cal and Kipp and watching and coaching my son's baseball games. I volunteer with the American Heart Association and offer high school athletic medical care as a volunteer.. I also enjoy exercising and woodworking.
Credentials
Pickerill, Adler & Reed, Family Medicine, Unity Healthcare, 2004-2013
Private Practice, Family Medicine, 1997-2004
Chairman, Clinical Operations Group, Franciscan St. Elizabeth Health, 2011-2012
Chairman, Board of Directors, Franciscan Alliance, Western Indiana Region, 2010-2013
Teacher of First Year Medical Students: Job Shadowing Program, Indiana University School of Medicine, Purdue, 2004-2010
President, Medical Staff, St. Elizabeth Hospital, 2003-2005
Board Certified, American Board of Family Medicine, Certified 1997, Recertified 2003
Residency, St. Luke's Family Medicine, Milwaukee, Wisconsin
MD, Indiana University School of Medicine, Indianapolis, Indiana
BS, Purdue University, West Lafayette, Indiana: Summa Cum Laude, Phi Betta Kappa